Carlos J. Rodríguez-Feo, DDS, PA
Oral and Maxillofacial Surgery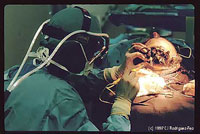 Welcome to the online home of Carlos J. Rodríguez-Feo, DDS, PA.
Important Information Regarding
2019 Novel Coronavirus (COVID-19)
The safety and well-being of our patients continues to be our primary concern. As per Executive Order 2020-112 issued by Governor DeSantis, our office continues to be open and we may now provide both elective and emergency services and procedures.
In an effort to support national efforts to fight the COVID- 19 pandemic, our practice is following steps to help assure your health and well-being and that of our community. Your health, and the health of our dedicated staff, matters to us and we are following directives from the Centers for Disease Control and Prevention (CDC) as a way to limit patient and staff exposure to this virus.
If you have fever or have felt hot or feverish recently (14-21 days), are having shortness of breath or other difficulties breathing, have a cough, have any other flu-like symptoms, such as gastrointestinal upset, headache or fatigue, have experienced recent loss of taste or smell, are in contact with any confirmed COVID-19 positive patients (patients who are well but who have a sick family member at home with COVID-19 should consider postponing elective treatment) and/or have traveled in the past 14 days to any regions affected by COVID-19 we ask that you do not schedule an appointment and instead call your health care provider or your county health department.
If your age is over 60, you have heart disease, lung disease, kidney disease, diabetes or any auto-immune disorders you should consider postponing elective treatment.
We thank everyone for their patience.
What is oral and maxillofacial surgery?
It is the specialty that encompasses the surgical correction of problems of the mouth, jaws, facial structures and neck. This may involve removing teeth, placement of implants, correcting the jaws, removing tumors and reconstruction, treating infections, reconstructive surgery of the face after accidents, or TMJ surgery. Our specialty also provides anesthesia in the office for surgeries done outside the hospital.
Contact:
Phone: (305) 665-3721
Fax: (305) 665-3602
E-Mail: jawsurgery@bellsouth.net
Google Plus:
Carlos J. Rodríguez-Feo, DDS, PA
Oral and Maxillofacial Surgery
6601 Southwest 80th Street
Suite 125
Miami, FL 33143-4661